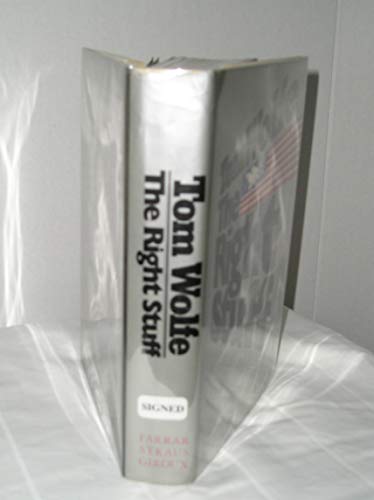 Hello, my fellow Gaston College Book Club followers!  Adjunct Evening Librarian Whit Preston here with a book review of a story by an author whom many consider to be one of the greatest American authors.  The fact that he was born in the southeastern United States is also commendable, considering that many of you are living in North Carolina, if not the southeastern United States.
The book I am about to review does also have an Oscar-winning film of the same name, whose release date was 1983.  And although I could not complete this novel, I did read enough to know its worth and noteworthy contribution to literature.
The Right Stuff by Tom Wolfe is essentially news-like non-fiction with the ability to also portray the necessary elements of a great story.  Essentially, Wolfe has been able to document the earliest form of United States Navy jet fighters and then progressively moves toward a minute demographic of qualified men within an already distinguished select group.  These very few select men became the first American astronauts.
No details are left unmentioned, and for anyone who might be squeamish with regard to smells, death, and explosions, this novel will not be right for you.  Such physical things as body organs are not quite at the forefront of the story.  However, the risk of fighter pilots being seriously injured during the emergency ejection process is described in detail.  The book does do an excellent job of giving an overall sense of experiential being to the characters themselves.  At the story's essence is such rare experiences as the astronauts describing what it felt like to travel to Earth's moon.
For this particular book reviewer, the story did not grab my attention like other stories similar to it.  However, everyone reading this should realize that I do not always focus well when it comes to reading some material.  This just happened to be one such book.
Until next time, please continue to stop by the Gaston College Libraries to see what new books and library materials are available.
Please also be sure to take a bit of time out of your day on Monday, August 21 to experience the partial solar eclipse that everyone in the general Charlotte area will be able to see.  And above all else, please be sure to use protective solar glasses if you do end up watching the eclipse.